It's no secret that, more often than not, people take care of their teeth to ensure that they look good – straight, white teeth and that Hollywood smile are the ultimate goal that forms the field of cosmetic dentistry.
Stained or discolored teeth are often the first thing that you, and others, will notice about your smile. Luckily there are plenty of solutions for whitening yellow teeth, ranging from simple tooth whitening kits to getting your teeth professionally whitened, or having veneers done in our Bondi Junction or North Sydney dental practices.
What causes tooth stains and discoloration?
Teeth have a thin film that covers the enamel of the tooth, and over time pigments can build up and start to show discoloration in the teeth. In the early stages, this can be avoided with regular brushing and using whitening toothpaste; however, over time this can build-up to the point where brushing might not whiten your teeth anymore.
Common causes of stained teeth are:
Coffee

Smoking

Wine

Beetroot

Berries
When the time comes for you to visit a dentist to whiten your smile, there are two main solutions – teeth whitening and dental veneers. The one you choose will be determined by your individual case and your goals for your smile.
Teeth Whitening
Teeth whitening, as the name suggests, is a procedure that is used to lighten your enamel, therefore, resulting in a whiter, brighter smile. Professional in-chair teeth whitening is performed by a qualified cosmetic dentist, using a specially formulated whitening solution that is applied to your teeth. A high-intensity lamp is used to activate the teeth whitening solution, and within a matter of minutes, you will notice stained and yellowed teeth turning several shades brighter.
Led by Dr. Michael Tam, our team of experienced cosmetic dentists has conducted thousands of teeth whitening treatments over the last 25 years. You can learn more here about professional teeth whitening or you can book an appointment at our North Sydney or Bondi Junction dental practices.
Dental Veneers
Unlike teeth whitening, cosmetic dental veneers offer solutions not just to stained teeth, but also to an array of other aesthetic problems you may have with your smile. Veneers are a minimally invasive solution that can correct a single problem tooth or provide a complete smile-makeover; lessening gaps and rectifying crooked, stained or broken teeth.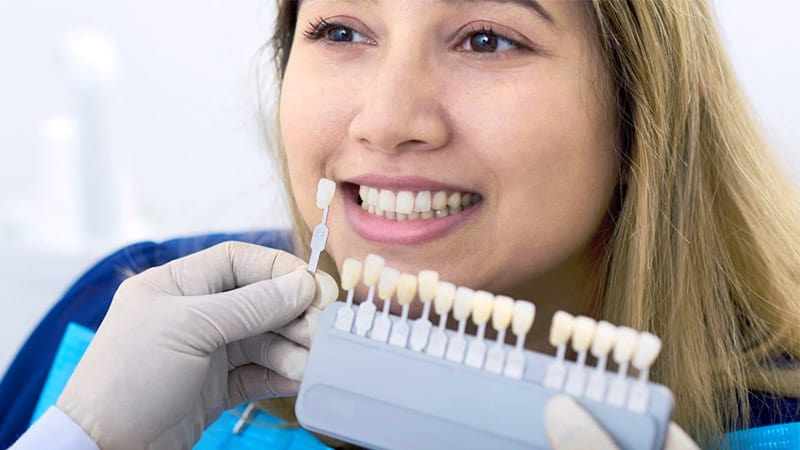 Dental veneers are ultra-thin, tooth-colored shells made of composite or porcelain.  The material chosen is dependent on your needs, timing, preferences, and budget. and they function by covering the flaws in your teeth.
Dr. Tam and his team possess extensive experience in both porcelain and composite veneers which allows the team at Smile by Design to provide everything from minor corrections to complete smile makeovers using cosmetic veneers. You can learn more here about cosmetic veneers or you can book an appointment at our North Sydney or Bondi Junction dental practices.
Should I whiten my teeth or get veneers?
The decision between teeth whitening vs cosmetic veneers depends on a range of factors such as the integrity of the teeth, the shape of teeth as well as positioning of the teeth. Dr. Tam constantly strives to maintain the integrity of the teeth. In most cases, it is less invasive to whiten the teeth before proceeding with veneers and in any case beginning with whitening will permit you to decide on veneers thereafter.    
Another consideration is how many teeth need attention – if you have just one stained tooth then our team can colour match a veneer to match the rest of your smile with ease. However, if your entire smile is yellow or discoloured, but otherwise fine, then it might be a better option to only get in-chair teeth whitening. Our team of cosmetic dentists will discuss your options in more detail to help you decide the best solution to brighten your smile.
About Dr. Tam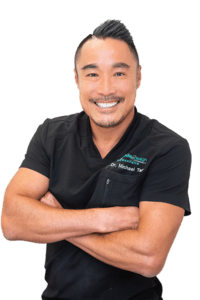 Dr. Michael Tam BDS (NZ) Grad Dip Clin Dent (Oral Implants) (Syd) has over 25 years of experience in the dental field and with a special interest in Cosmetic and Implant Dentistry, he obtained a Distinction Award from the NZDA in Continuing Dental Education and has met with dental practices in London, Europe, Asia, America, and Canada. With years of experience in cosmetic dentistry, Dr. Tam and his team have performed countless successful teeth whitening and dental veneer procedures on patients in Australia and overseas so rest assured your teeth will be well taken care of.