General and Family Dentistry

Root Canal Treatment
Treating Dental Abscesses
If your tooth is decayed or damaged, a root canal treatment will fix your infected or damaged nerves. Taking its name from treating the canal of the root, we aim to fix your tooth from its foundations.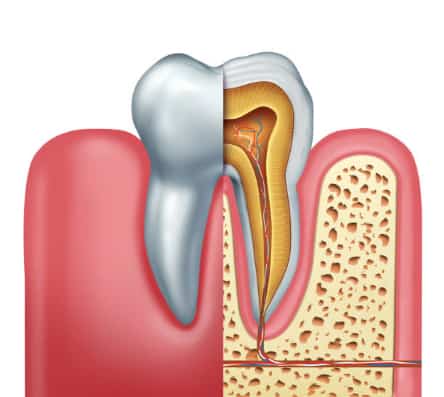 Severe Tooth Pain
A dying, breaking or abscessed tooth can be so brittle that it can no longer be effectively restored. If this is the case, the damaged nerve must be treated to protect your tooth and prevent infection. This process is called root canal treatment. Quick fixes, like over-the-counter medication, will only buy you temporary relief. Taking care of your damaged nerve tissue is paramount as this is a serious condition that can compromise your health and harm other teeth. A root canal treatment will allow us to preserve your tooth and keep it in terrific working order for years to come.
Once Dr. Michael Tam and his team have determined that root canal is the preferred treatment for your tooth, the process generally takes between 2 and 3 visits. Each appointment lasts between 45 to 75 minutes. Our state of the art facilities and expert training means that your comfort is our priority. If you are feeling anxious about having a root canal treatment, talk to our team about your options.
Quick relief
If you're struggling with nerve damage, we offer relief through timely and comfortable root canal treatment. Our prime concern is minimising your pain before we begin to remove the infected, diseased tissue and fill the nerve canal to ensure that no infection will return.
To prevent any further damage to the tooth, all teeth treated with a root canal must also have a crown placed over the tooth following the treatment. A crown protects the brittle enamel and helps to reinforce the tooth to prevent fractures.
Because Dr Tam has specialised training in root canal treatment therapy, Smile by Design is able to offer a wide range of services. Having a root canal treatment is a major procedure, and we know you'll feel more relaxed and comfortable when you know and trust both your dentist and your surrounds.
The pain myth
You may have heard that having a root canal treatment is a painful. This is simply not true – when carried out by an expert, where you feel at ease, with proper pain-relief, they're no more uncomfortable than any other type of dental treatment. Once the tooth area is numbed, our state-of-the-art equipment allows us to do a better job, faster. If you suffer from anxiety, we can offer you options such as sedation dentistry.
Prevent Tooth Loss
If you know your tooth is broken or abscessed, putting off a root canal treatment can lead to you losing it. Give us a call and we can slot you into one of our daily emergency appointments. We make it our priority to get you seen to quickly, and give you straightforward treatment plans with no hidden charges. Contact us today to book a root canal appointment.