Getting dental implants is quite an involved process that can be the key to fixing misshapen or missing teeth to help restore and create a complete, confident smile. There are many common misconceptions that surround the process and final result of dental implants. One of our core values at Smile by Design is ensuring our patients have all the information about costs, procedures and benefits involved in cosmetic dentistry.
Can dental implants look and feel unnatural?
One of the most common misconceptions about implant dentistry is that the end result can feel unnatural – but the reality is much more nuanced than that. The implant itself will not cause any sensation as it lacks the roots and nerves of a natural tooth – however, initially, there can be slight discomfort as the neighbouring gums adjust to the implant. Beyond this though, your new dental implant will feel perfectly normal.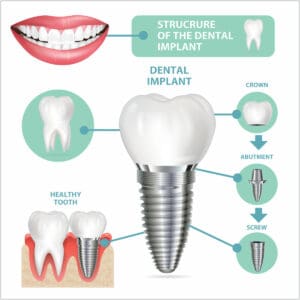 Dr. Michael Tam and his team will work with you to design your implant to match and enhance your smile – all while ensuring that it blends in seamlessly with the rest of your teeth. Colour, shape, and symmetry are all considered when undergoing your dental implant treatment.
Dental implants actually become an integrated part of your mouth as they adhere to the jawbone. Just like "real" teeth, brushing, flossing, eating, and smiling will look and feel like the tooth has been in your smile for your whole life.
My teeth are in really bad shape, is it too late for dental implants?
Most people can safely receive dental implants even in some of the most extreme cases. In fact, dental implants may be the best recourse for heavily damaged and decayed smiles. Even in cases where one or several teeth are missing, a dental implant procedure may be the recommended solution to help restore your perfect smile.
At both our North Sydney and Bondi Junction dental clinics, we use the latest technologies to assess each individual case, and to determine the best course of action before making a recommendation – so no matter how severe your case is, Dr Tam and his team will work together with you to find the best solution for your smile.
Aren't missing teeth just an aesthetic problem?
The two most common reasons for putting off implant dentistry are that patients find the cost of dental implants might be too much, or those missing teeth are a solely aesthetic problem that can be put off for later. Unfortunately, waiting for too long before getting dental implants can have severe adverse effects on the health of your mouth. There are several risks that come from having missing teeth including:
Bone Loss: missing teeth can lead to bone loss in your jaw. This happens because the gap in your mouth no longer has another tooth to make contact with which helps to stimulate the bone. As time passes, this can lead to the deterioration of the jawbone where you're missing a tooth.
Gum disease: Where teeth are missing the gums become more prone to developing gum disease. The open space in your smile will make it easier for bacteria to infect your gums which can be a catalyst to further tooth damage and potentially even loss of more teeth.
Crooked Teeth: The empty space from a missing tooth can cause surrounding teeth to shift into this space. This is not only an aesthetic issue but can cause problems with your bite. In addition to this, it may become more difficult to floss effectively which in turn can lead to further degradation of your dental health.
Where can I get dental implants?
If you're looking to get dental implants in Sydney then look no further than Smile by Design. Dr. Michael Tam and his team of qualified cosmetic dentists operate out of our two dental clinics in Bondi Junction and North Sydney. You can book an appointment via our contact page, or give us a call on 02 9389 3333 (Bondi Junction) or 02 9460 3566 (North Sydney.
About Dr. Tam
Dr. Michael Tam BDS (NZ) Grad Dip Clin Dent (Oral Implants) (Syd) has over 25 years experience in the dental field and with a special interest in Cosmetic and Implant Dentistry, he obtained a Distinction Award from the NZDA in Continuing Dental Education and has met with dental practices in London, Europe, Asia, America and Canada. With years of experience in cosmetic dentistry, Dr. Tam and his team have performed countless successful implant dentistry procedures on patients in Australia and overseas so rest assured your teeth will be well taken care of.